For many years now, Horror films have always brought their own unique brand of terror in our hearts.  They've filled our imaginations with certain fright that movie goers everywhere have always taken in.  No matter the time era, Horror films have always touched us in ways never thought imaginable from a cinematic perspective.  From creature features, to tales of the supernatural.  And then there was the slasher.  
Slasher films have made horror feel too real in some cases.  The fact that they are not too far fetched in how likely they could be.  From scares of a serial killer lurking in the shadows, waiting to strike, or an unknown presence that sends shivers down your spine.  The modern slasher film has always been my preferred style of horror movie.  The over-the-top characters in them have always had me playing favourites with the killers themselves, giving no regard to their victims.  I guess if you've been as exposed to death and brutality, (fake or not) you tend to lose sight on what your supposed to be watching.  Not like I'd be the kinda guy who would go out and commit heinous crimes, but I do enjoy a good slashing!
Though I won't go into too much detail on the matter, especially not in terms of what was most important in its not too humble beginnings, I will touch bases on my personal likes.  Match them to your own to see if we concur.  As we take a deadly look at the world in which the Slasher film was born.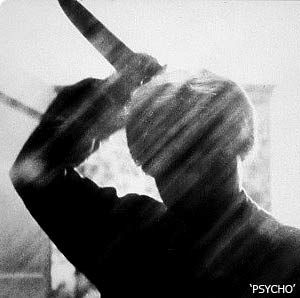 Alfred Hitchcock's classic, Psycho stunned audiences with its schizophrenic madman Norman Bates who went all "Ed Gein" on all his victims.  Killing all those who mother didn't approve.  Though I'm not a fan of most of Hitchcock's work, the appreciation for his contribution to film and to Horror.  He paved the way for movies to just go a bit further over the edge.  Since Norman Bates stuck his murderous wig out in the open, people (mostly women) had an almost fear of taking showers.
The 70's would dawn a new era for horror.  Bringing us some slightly more sinister villains to wanna decorate our walls with.  The very Unforgettable Last House on the Left, would leave bruised and tortured for weeks upon seeing it.  Wes Craven sure made a name for himself, before breaking the mold in the 80's.  Last House showed us that anything could happen, even getting picked up, drugged, raped, beaten, and then killed.  It touched too close to home, showing us instead of just implying violence.  
If we didn't have to be afraid of what was behind the door, or on the phone, our Holidays were now a wreck with Bob Clark's Black Christmas.  Stalking a sorority was an unknown killer, of the likes we never see.  A lot of the camera views, similar to some of the scenes in Psycho, were of a 1st person perspective.  A style that predates Halloween, and uses techniques that could even work for today's audience.  I also found it super Funny that the same guy who did this film, also did Porky's!  Fucking Classic.  But if pulling plastic bags over people's heads and stabbing them in the face wasn't enough, they had to bring out the big Guns!
I'm only talking about The Texas Chainsaw Massacre.  I honestly can't say how genius it was to make "One of the Goriest Movies Ever made" and only show a small squeeze of Blood.  Marilyn Burns was one of the only ones who bled and she was the only from the house who survived.  The Character of Sally didn't make it out though without a few scares.  Most of them just being mental.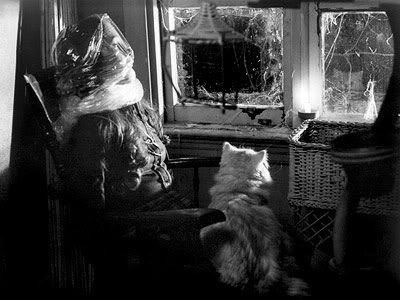 And How about that Holiday again?  John Carpenter's Halloween, along with films such as The Toolbox Murders, and I Spit on your Grave were making the scene Scarier by the bucket load.  Halloween first off is a personal favourite of mine.  Nothing creepier than a guy killing people in a William Shatner mask.  Not to mention Halloween is also the only Holiday I celebrate.  And not for any other reason than candy and cheat scares.  Not to mention most T.V. stations cater to us weirdos and put on Horror Marathons.  Even though they're heavily edited, it's much more gratifying than watch "It's A Wonderful Life" for the Billionth time.  People would riot if that was ever Remade!
Though some might disagree, but I've always viewed films such as I Spit on your Grave as being perfect films to mess with a kid.  I watched movies like it along side Faces of Death and The Hills Have Eyes.  It's more of a revenge film than a horror, though the remake makes people cringe again with the forever haunting Penis removal scene.  If your were never into wanting to watch it, you may be more into it now.  Its terrible in that a woman is raped multiple times in the beginning, but they what they deserve later.  She gets them back Hardcore!
Following in the steps of Michael Myers, Slashers turned to more mythical like killers, where no matter what you did to them, they'd always come back.  The 80's opened up our gutbags to fun and new kinds of killers.  They were first, brought into this era by none other than Pamela Voorhees, in Friday the 13th.  Betsy Palmer's character helped bring into this world more fun and zany killing, and her son, Jason.  Once the slasher film went a little more towards the supernatural side, the floor became more open for different killers to stand on.  A Nightmare on Elm Street and the Friday the 13th series went this direction.  Other films such as the Prowler, April Fool's Day, My Bloody Valentine chose to remain old school.  Ultimately films were just playing around with the Holidays or using up the well from which Psycho and Halloween had filled.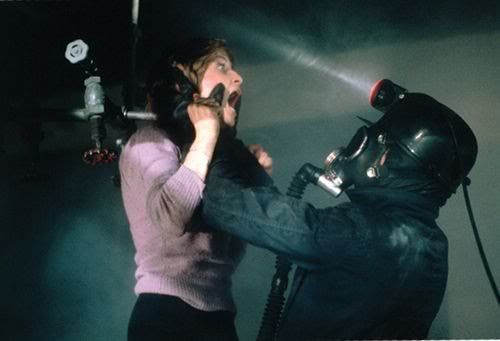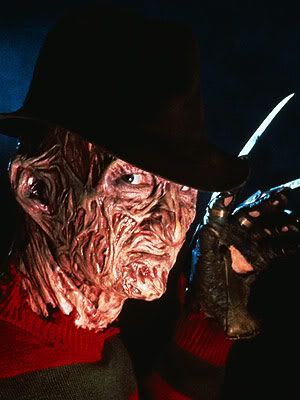 Independent Horror was another untapped resource.  Most of the major release stuff was indie originally, but then picked up by big companies. Films like Sleepaway Camp, Psycho Cop, Slumber Party Massacre, and others remained fair game.  I don't think these films would of made it through the 90's had they been bigger at first.  This leaves films like Scream and I Know What You Did Last Summer reviving the genre for a new generation, but not in the same vein there predecessors had.
Now in the 2000's, we are now suffering through the slings and splatters of Hollywood trying to kill the Nostalgia Market by Remaking everything there is to remake.  There has though, like the late 80's and 90's, the independent scene has been the ones churning out the hits.  Some mainstream film directors have had some success helping keep Horror alive.
Musician turned Film maker Rob Zombie made some decent additions to the annals of Modern Horror.  With A House of 1000 Corpses and The Devil's Rejects, the slasher film is alive and well.  But his wasn't the only true contribution.  Since the 2000's era gave birth to what we call "Torture Porn" (Saw, Hostel) our classy group of Indies gave us Victor Crowley, Chromeskull, and Leslie Vernon.  These being very memorable, and the films they are attached to are no different.  Hatchet, Behind the Mask, and Laid to Rest are perfect examples of what a true horror Icon is supposed to be like.
Foreign films are definitely on the rise as well.  Since the Internet is making almost everything available to us hungry, hungry film goers, High Tension and Inside are some of France's finest slashers.  As well, films pouring in from Korea, Japan, China, New Zealand, Australia, and all over Europe.  The numbers are remarkable.  The Foreign film market leaves us with more options.  So Hollywood can keep churning out stuff we don't and won't like, as long as they don't immediately hit redoing everything else as it comes out.  One thing is For Sure, we can rest easy knowing there are so many ways to get our scares.  Slashers have even invaded the world of comedy in Tucker and Dale vs Evil.  That was something I never saw coming.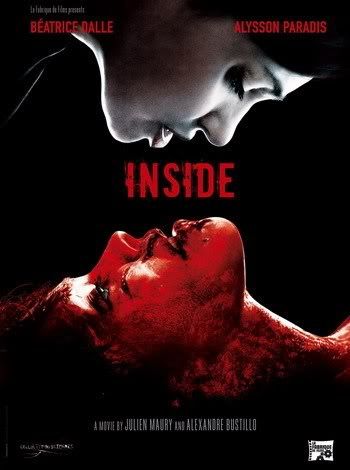 So with all this history, where do we go?  Just like some of the famous serial killer movies and Henry, we can go anywhere.  A Horrible Way to Die is a perfect example.  Both a slasher and drama if you look at it.  And I know how it sounds, gay right?  But it does it in a interesting way.  What a horrible thing to have to go through.  Being in love with someone you now know is a killer.  Something like what we'll see in the up coming series of Dexter.  It moves like Taking Lives, but it also takes you back through this woman's past.  And I can't even begin to describe some of the scenes, the way they felt.  Much like the movie Ted Bundy, it shows you a side of a killer you wouldn't think exists.
But where can we go from here?  Who the Fuck Cares as long as they Do It!